Stop Furniture Damage Before it starts!
 Furniture is an investment that lasts for generations. Keep yours in beautiful condition by protecting it from common household catastrophes. Here are some helpful hints to help you keep your furniture looking its best.
• Avoid all cleaners containing ammonia. It can damage your wood furniture.  
• Frequently dust with a soft, dry, clean cloth.  
• Make sure your furniture polish does not contain a high amount of alcohol as it can damage wood finishes.
• Use coasters with felt or cork bottoms to reduce water rings.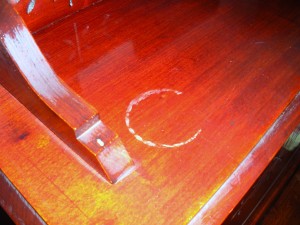 • Protect furniture from hot serving dishes with a table cloth, oven mitt or hot plate.  
• Be careful when cleaning, never allow moisture to be trapped between glass and a wood surface. Make sure surfaces are completely dry before the glass is replaced.  
• Position furniture away from direct sunlight. Sunlight dries out wood surfaces.
• If you have pets that enjoy getting on wood chairs and table tops, protect those surfaces with a table cloth, chair cover or protective pad. This is the best way to prevent damage from pet nails from scratching the surface of those pieces.